Preferred Sample Type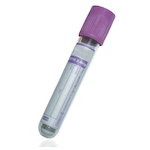 Suitable Specimen Types
Serum
EDTA Plasma
Li Hep Plasma
A minimum of 50 µl of plasma/serum is required.
Sample Processing in Laboratory
Place sample in toxicology rack.
Sample Preparation
None required
Turnaround Time
3 days.
Sample Stability
Keep refrigerated. 4 degrees.
Quetiapine
General Information
Quetiapine is a dibenzothiazepine derivative, structurally related to cloazapine which has been used clinically since 1997 as a neuroleptic agent in the treatment of psychosis. Daily doses may range from 150 - 800 mg and are usually administered in 2 - 3 portions.
Adverse reactions to quetiapine therapy include somnolence, hypertension, dizziness, dry mouth and dyspepsia. Neuroleptic malignant syndrome has also been reported.
Patient Preparation
For TDM, sample should be taken prior to dose. If toxicity is suspected, take sample at earliest opportunity
Notes
Quetiapine measured by LC-MS/MS.
Reference Range
Therapeutic range: 100 - 500 μg/L. Toxicity associated with concentrations >1000 μg/L. (Schulz et al. Critical Care 2012, 16:R136).
Specifications
EQA Scheme?: Yes
EQA Status: LGC TDM